Technical Programs Admissions Process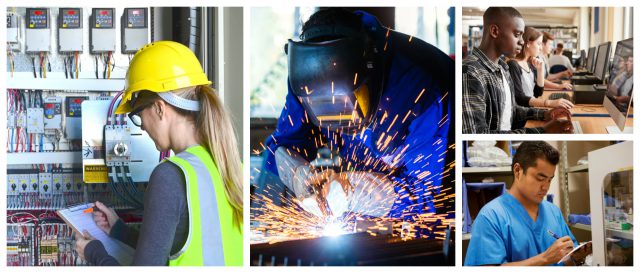 The following programs are closed for enrollment for the August 2019 term: Automotive Collision Technology, Automotive Services Technology (day), Electricity (day and evening), Welding Technology. If any openings become available, this page will be updated. Check back on June 28 for updates. The application window for January 2020 opens September 5, 2019.
Step 1:
Schedule an appointment to meet with Kim Dunn, Admissions Advisor/Career Specialist. This is an important step in our application process.  It is an opportunity for us to get to know you and your goals.  During this meeting we will provide you with information about our programs and school so you can make an informed decision before committing to Marchman Technical College.  During this time we will also help you identify the right program for you to help you reach your goals.  The meeting also provides an opportunity for you to get answers to all of your important questions before you apply and enroll.  Contact Ms. Dunn at 727-774-1700 to schedule this important meeting.
Prior to your appointment, you may want to complete the Careers Interest & Confidence Inventory.  (Access directions here for navigating My Career Shines.)
Bring a copy of your high school or GED transcript with you if you are not a graduate from Pasco County Schools. (Highly Recommended)
During your appointment, you will tour the programs that interest you and receive an application packet.
If applicable, schedule the Wonderlic Test with the Assessment Center.  The Admissions Advisor / Career Specialist can tell you if this applies to you.  There is a $25 fee for this test.
Step 2:
Complete the Online Application, including college essay questions.
All applicants are required to submit four short essay questions as part of their application.  Applicants are admitted or denied admission to the program based on their answer to these questions.  These essay questions are reviewed by an admissions committee composed of instructors & student services staff.  The responses should be complete short essays.  The most effective responses typically are 5 – 8 sentences.  Longer or shorter responses are acceptable.  The admissions committee looks for the following criteria when scoring essays.    
Purpose: 

The college essay indicates that the student has set clear academic and career 

goals for the future.

Achievement of Career Goals: 

The college essay indicates that the student understands how MTC can help 

him/her achieve career goals.

Workforce Readiness: 

The college essay clearly indicates that the student has a great probability of 

success in the workforce.

Student is Seeking 

Employment in 

Industry of Program:   The college essay clearly indicates that the student is seeking employment in the 

industry of the program. 
Note:  Students can have points added to their score based on academic performance. 
Step 3:
Submit the following documents to complete the application process (Bldg 1, Administration)
High School Diploma or GED Transcript (if not already submitted)
Wonderlic Test Results (if applicable)
Pay the $25 Non-Refundable Application Fee 
Step 4:
Admission Interview (this step is required for limited access programs which include Welding Technology and Computer Systems & Information Technology programs)
Once the application is reviewed and approved by the admissions committee, the applicant is then required to have an interview with the program instructor and Assistant Director of Marchman Technical College.  The applicant's responses to the interview questions should reinforce that the candidate's credentials indicate the applicant will successfully complete the program and subsequently enter the workforce in their chosen program of study.  The program instructor and Assistant Director have the final authority to grant or deny admission to the program.
Download a copy of the enrollment checklist.
Application Deadlines
July 25, 2019:  Deadline for Technical Program Application
July 25, 2019:  Deadline for FAFSA for Financial Aid 
---
Kim Dunn, Admissions Advisor/Career Specialist

727-774-1703
kdunn@pasco.k12.fl.us
Service Industry
Arts, Communication & Technology
Construction
Industry
Important Dates and Deadlines
July 25, 2019:  Deadline for Technical Program Application
July 25, 2019:  Deadline for FAFSA for Financial Aid