Career Certificate Programs
Admissions Process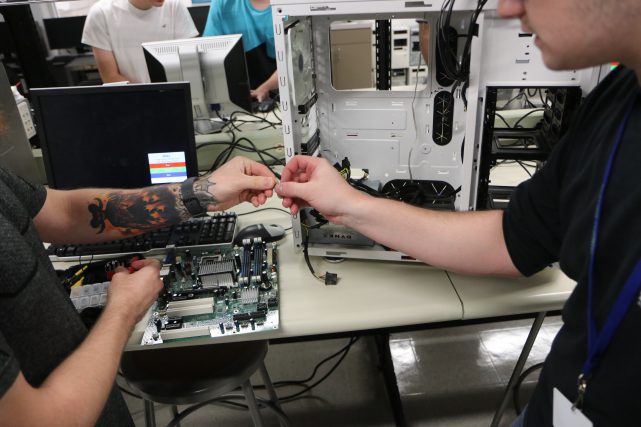 The following programs will be accepting applications for the January 2024 term starting on September 12th, 2023.  If you are interested in applying for the January 2024 term, please follow the admissions process. 
Early Childhood Education
If you are interested in applying for Fall 2024 enrollment, please plan to attend our annual Sneak Peek open house to meet our instructors and learn about programs and admissions. We will announce fall program openings here at a later date. If you have general questions please contact Kim Dunn, Admissions Advisor, at 727-774-1703. 

Admissions Process
The admission process involves a total picture of all applicants. It includes a review of all transcripts and short answer essay responses along with interview results. Admission is offered to those candidates whose credentials indicate the greatest promise of success in their chosen career pursuits.
Step 1:
To start your journey at Fred K. Marchman Technical College you will need to schedule an appointment to meet with Kim Dunn, Admissions Advisor/Career Specialist. This is an important step in our application process.  It is an opportunity for us to get to know you and your goals.  During this meeting we will provide you with information about our programs and school so you can make an informed decision before committing to Fred K. Marchman Technical College.  During this time we will also help you identify the right program for you to help you reach your goals.  The meeting also provides an opportunity for you to get answers to all of your important questions before you apply and enroll.  Contact Ms. Dunn at 727-774-1703 to schedule this important meeting.
Prior to your appointment, you may want to complete a careers interest inventory and explore career information and outlook.  CareerOneStop
At your admissions meeting, you will receive a link to the application.  Your application will not be processed until the remaining steps are complete.
Step 2:
Pay the $25.00 application fee (plus $1.00 processing fee) and complete the online application with essays.
Step 3:
Provide a copy of your High School Transcript (not required for Pasco graduates) or GED (can be requested at GED.com) if you have not already submitted one. Note: Students who received their GED in Pasco County must submit transcript.
Step 4:
Complete the Residency Classification Form and upload two supporting documents.  Note: If the student is under the age of 24 years old, a parent or guardian must complete this step.  For more information about residency, click here.
Step 5:
Provide an official postsecondary transcript to the Admissions Advisor/Career Specialist at the time of application if the student is requesting transfer credit.
What to Expect After Your Application is Submitted 
Once a completed application is received the student will be scheduled for an interview. The applicant's responses to the essays and interview questions should indicate that the candidate's credentials will support the student to successfully complete the program and subsequently enter the workforce in their chosen program of study. The program instructor and assistant director have the final discretion to grant or deny admission to the program.
Download a copy of the enrollment checklist.
Wait List Information
Application review and interviews will continue until the program and wait list are full or until the application deadline for the term. If a student is accepted and no seats are available in the class the student is placed on a wait list. When the class and wait list are full applications are no longer accepted. Accepted students on the wait list who do not get a seat in the current term of application must complete all portions of the application process again to apply for a seat for the next available term of enrollment. Admission to programs can be exceptionally competitive, and it is encouraged to submit applications early.
Financial Aid
You are strongly encourage to complete the Free Application for Federal Student Aid (FAFSA) as soon as possible.  Click here to be taken to our Financial Aid webpage.
---
Kim Dunn, Admissions Advisor/Career Specialist

727-774-1703
Career Certificate Programs
Service Industry
Arts, Communication & Technology
Construction
Manufacturing 
Industry