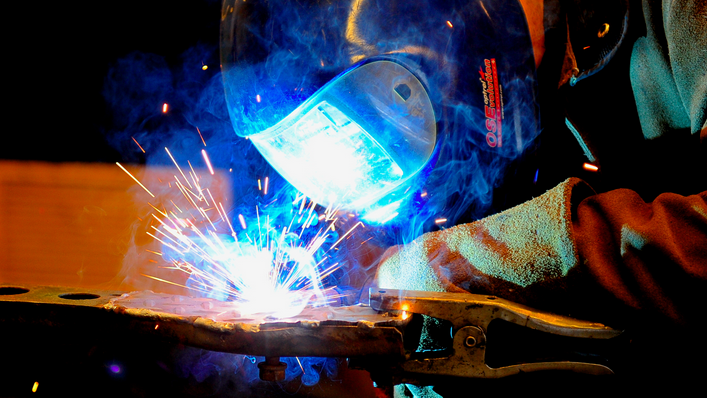 Program Description
The Welding Technology Program includes classroom and shop instruction to prepare students to enter the welding industry.  This program teaches students how to properly use welding equipment and products as they gain hands-on experience in basic and advanced welding, weld positioning, flux-cored arc welding (FCAW or FCA), shield metal arc welding (SMAW), gas metal arc welding (GMAW), gas tungsten arc welding (GTAW), and other disciplines. Students will also prepare for the American Welding Society (AWS) certification exam.  Instruction covers 140 of 143 AWS weld types.  Students will become acquainted with the overall industry and learn the latest employability skills. To learn more about our Welding Technology program, please schedule an appointment with Kim Dun, our Career Specialist / Admissions Advisor.
Is a career in Welding Technology the right pathway for you?  Click here to learn more about what it takes to be successful in Welding Technology! 
Certification
American Welding Society Certified Welder – SMAW Plate, FCAW Plate
College Credit Award
Program completers may receive articulated credit toward an aligned certificate, A.A.S. or A.S. degree program at participating institutions in the Tampa Bay Career Pathways Consortium.  Details may be obtained from the Admissions Advisor/Career Specialist and/or School Counselor.
Career Information
Possible careers after two years post-secondary training and two years field experience: Welder, welder/fabricator, welding machine operator, cutter, pipe fitter and steamfitter, iron worker, millwright, boilermaker, commercial divers
Possible careers after four-year university degree: Certified welding inspector, industrial engineer, welding engineer, teacher, researcher, welding consultant     
Basic Skills Exit Requirements
Computations (Mathematics) 9           Communications (Reading and Language Arts) 9
In order to be a program completer, some students must meet minimum math, language, and reading achievement level exit standards on the TABE, unless otherwise exempt, as established by the Florida Department of Education.  Additional information can be found on Page 5 of the MTC Catalog.
Uniforms
The uniform for this program consists of an MTC Welding shirt.  Orders for work shirts will be taken at the start of class.  Students must wear fabrics that are denim or cotton.  Synthetic materials are not permitted.  Students must wear steel-toed work boots, no shoelaces.
Tools and Supplies
Tools and supplies are included in the program fees and will be distributed to students after the first week of school. 
Brian L, Instructor
Local 123 Steamfitters and Welders, Hillsborough Community College
Pinellas Technical College
Building 8, Room 004
TBD, Instructor
Building 8, Room 001
Kim Dunn, Admissions Advisor

727-774-1703
kdunn@pasco.k12.fl.us
Victoria Lockwood, Career Placement Coordinator
727-774-1710
vlockwoo@pasco.k12.fl.us