Counseling – Academic and Career Advising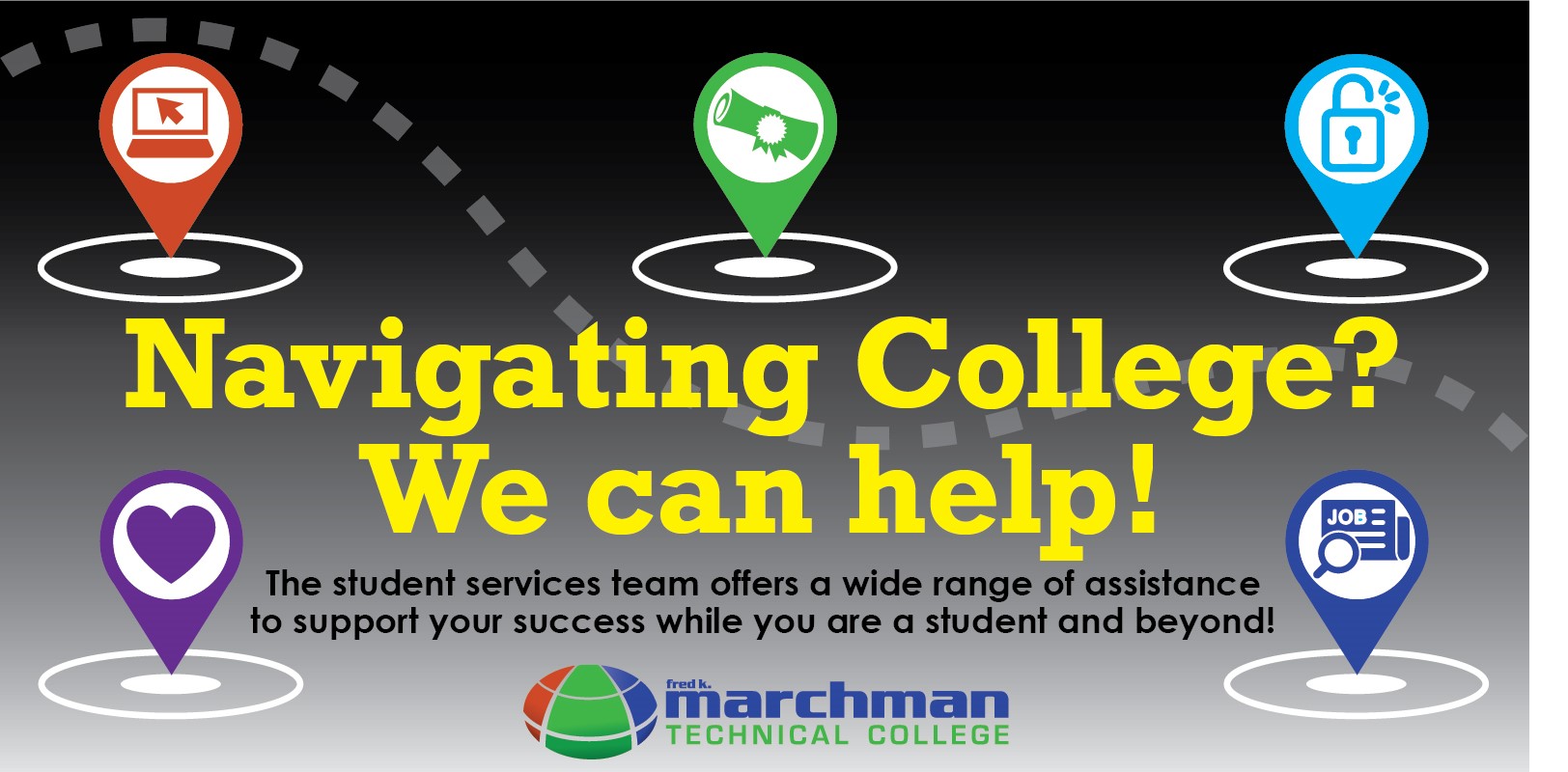 Counseling Services
Fred K. Marchman Technical College offers a student-centered, comprehensive and equitable school counseling program available to all enrolled students in career certificate programs, GED, UAGED, ESOL, and Adults with Disabilities programs. 
Direct services include:
Free and confidential personal counseling
Attendance and academic supports
Career development workshops
Classroom presentations
Crisis interventions
Threat assessments
Post-secondary planning
Teacher-student consultation
Referrals to community resources
High School Diploma Options Counseling is also offered to individuals who are interested in continuing their education to earn their high school diploma through Adult High School and/or GED classes.
 

Any student who is in need of support and personal counseling, community resources, or has questions about the educational and attendance expectations at Fred K. Marchman Technical College can contact Nicole Graziano, Certified School Counselor, by completing the request form or calling 727-774-1718.  Counseling sessions and/or phone contacts can be scheduled to accommodate student needs.

Students who are in immediate crisis and experiencing suicidal thoughts, please immediately contact 911 and/or Suicide Prevention Lifeline at: 988
Community Support and Resources
Drug and Alcohol
Drug Rehab in Florida
Bay Care Adult Treatment Center
727-841-4430
727-841-4475
North Tampa Behavioral Health
813-333-0000
813-922-3300
Turning Point of Tampa
1-800-397-3006
Alcoholics Anonymous
727-847-0777
Al-Anon
1-800-344-2666
Narcotics Anonymous
727-842-2433
Substance Abuse and Mental Health Services Administration
Nicole Graziano
Certified School Counselor
Building 1, Room 01-040
727-774-1718
ngrazian@pasco.k12.fl.us
Kim Dunn
Admissions Advisor
Building 1, Room 01-004
(727) 774-1703
Jen Warren
Graduation Enhancement Coach
Building 01, Room 01-019
(727) 774-1816
Amanda DeTiberus, Accessibility Services Coordinator 
Building 01, Room 01-012
727-774-1731
Victoria Lockwood 
Career Placement Coordinator
Building 01, 01-017
(727) 774-1710