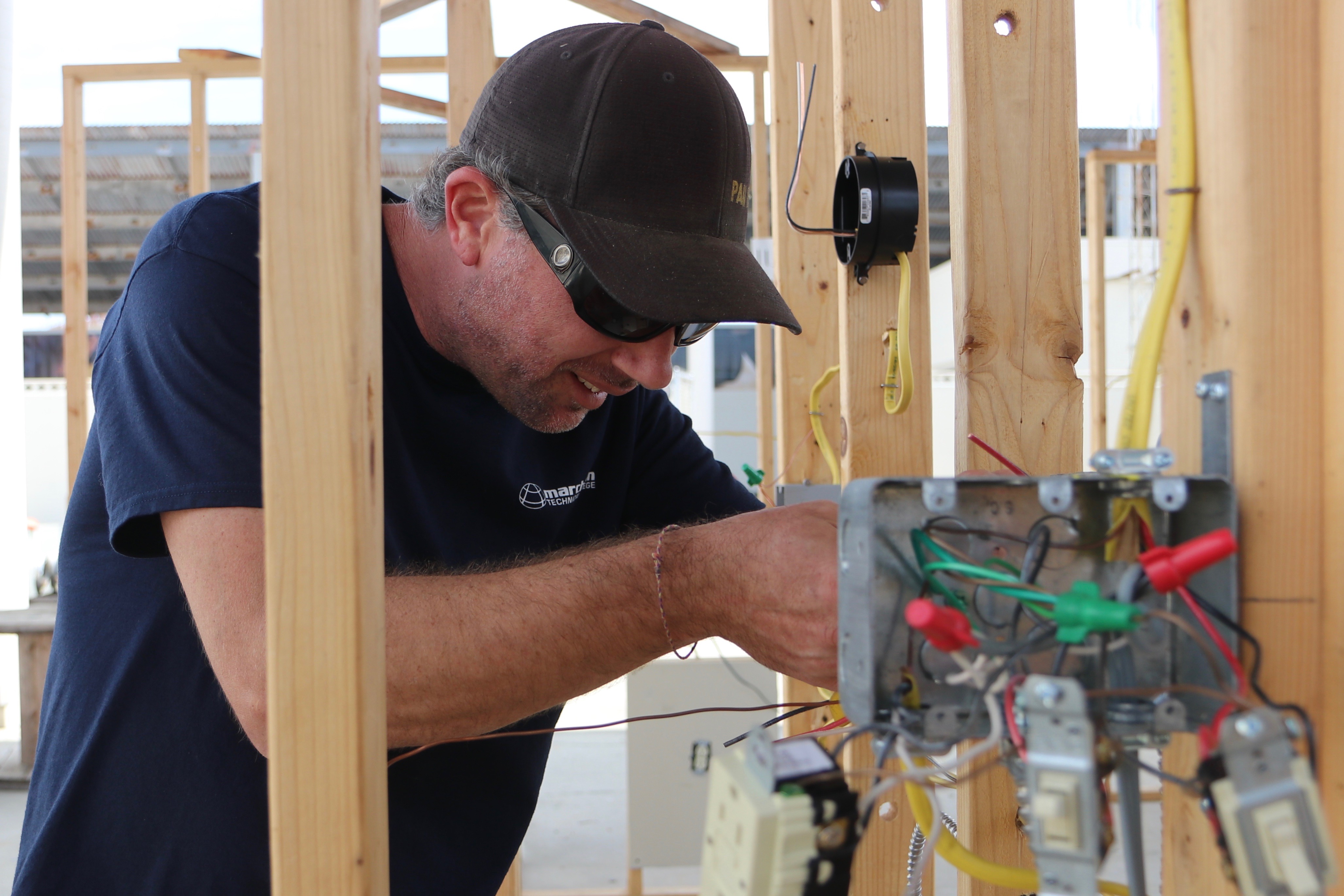 Program Description
The Electricity Program enables students to acquire skills and technical knowledge in planning, installing, troubleshooting, maintaining, repairing, and remodeling residential and commercial electrical systems. It provides basic pre-apprenticeship training. This program of instruction includes blueprint symbols, notations, National Electric Code, basic electrical theory, and field experiences.  For more information about our Electricity program, please schedule an appointment with Kim Dunn, our Career Specialist / Admissions Manager.
Is a career in Electricity the right pathway for you?  Click here to learn more about what it takes to be successful in Electricity! 
Certifications Available
OSHA 10 Hour
NCCER Core, Electrical 1, Electrical 2, Electrical 3
College Credit Award
Program completers may receive articulated credit toward an aligned certificate, A.A.S. or A.S. degree program at participating institutions in the Tampa Bay Career Pathways Consortium.  Details may be obtained from the Admissions Advisor/Career Specialist and/or School Counselor.
Career Information
Possible careers after two years of postsecondary and/or on-the-job training: Residential electrician apprentice, commercial electrician apprentice
Possible careers after a four-year apprenticeship: Journeyman, foreman, superintendent, project manager, estimator, inspector
Basic Exit Requirements
Computations (Mathematics) 9           Communications (Reading and Language Arts) 9
In order to be a program completer, some students must meet minimum math, language, and reading achievement level exit standards on the TABE or qualifying exam, unless otherwise exempt, as established by the Florida Department of Education.  Additional information can be found on Page 5 of the MTC Catalog and/or obtained from the Office for Adult Technical Education.
Uniforms
Electricity program shirts will be ordered after the start of class. The required uniform consists of the Electricity program shirt and long pants, closed-toe shoes and for safety reasons, wear safety glasses which are provide in the program kit. Proper uniform and safety equipment must be worn every day for participation in program activities. Failure to be in proper uniform will hinder student progress.
Supplies
Information regarding tools and supplies required for this program will be discussed in detail during the first week of class.
Jack Miller
jmiller@pasco.k12.fl.us
Buidling 6, Room 06-002
Kim Dunn, Admission Advisor 

727-774-1703
kdunn@pasco.k12.fl.us
Victoria Lockwood, Career Placement Coordinator
727-774-1710
vlockwoo@pasco.k12.fl.us