Career Certificate Program Application
The following programs will be accepting applications for the January 2024 term starting on September 12th, 2023.  If you are interested in applying for the January 2024 term, please follow the admissions process. 
Applied Cybersecurity
Cosmetology Schedule A (Day)
Early Childhood Education
Heating, Ventilation, Air-Conditioning/Refrigeration (HVAC/R)
Marine Service Technologies 
Patient Care Technician
Professional Culinary Arts and Hospitality 
Welding
If you are interested in applying for Fall 2024 enrollment, please plan to attend our annual Sneak Peek open house to meet our instructors and learn about programs and admissions. We will announce fall program openings here at a later date. If you have general questions please contact Kim Dunn, Admissions Advisor, at 727-774-1703.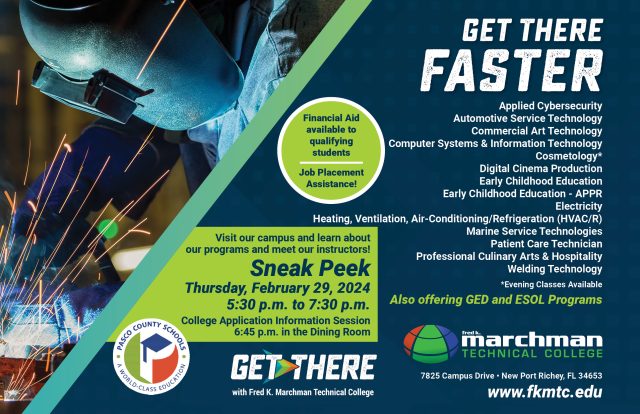 STEP 1: APPLICATION AND FEE
An application must be completed and a $25.00 nonrefundable application fee (plus $1.00 processing fee) must be paid before you can proceed. Please complete this step first.
STEP 2: TRANSCRIPTS
Next, you are required to upload a copy of your High School Transcript or GED Transcript here (GED transcripts can be requested at GED.com) if you have not already submitted one (not required for Pasco County graduates).  Note: Students who received their GED in Pasco County must submit a transcript.  
Students who are requesting transfer hours from another institution are required to upload their transcript here. (Credits must be awared prior to program enrollment)
STEP 3: RESIDENCY
You will need to complete the Residency Classification form and upload 2 supporting documents.  Note: If a student is under 24 a parent or guardian must complete this step. NOTE: If you are applying for the Early Childhood Education program APPR, you do NOT need to complete this step.
Your application is now complete! 
Please note, if applicable you will be required to take the Basic Skills test during the first six weeks of school.  The cost for administering and processing the test is $12.50 and is taken at our assessment center.
Financial Aid
If you have not secured funding for your tuition and fees, please complete the Free Application for Federal Student Aid (FAFSA) as soon as possible.  This application can be found at fafsa.gov.