MTEC Career Search Assistance
Building A, Room 14-015A
Hours:  By Appointment Only
Career Office: 727-774-1719
---
Let the MTEC Career Center Help You With Your Job Search
 Whether you have taken GED® preparatory classes at MTEC and obtained your GED® or you are completing a vocational program here at Marchman, the Career Office can help you move from learning to earning.  We offer current students, and especially those nearing graduation, support to transition from the classroom to the workplace.  Our career services are even available to you after you graduate.
The Career Office provides both group workshops and one-on-one assistance to help you prepare for your new career, including not only practical, hands-on career transition workshops described below, but also:
 Online Job Search Resources, Strategies & Techniques
Community Resource Referrals




---
 We offer one-on-one support and group career workshops for:
Completing a Job Application
Understand how employers view your application, along with how to address time gaps, salary expectations, and availability.
Call to schedule a one on one appointment. Group workshops schedule through your instructor or available through Career Source Florida/Pasco.
Preparing a Resume
Changing careers? Limited or no work experience? Create a resume to grab an employer's attention and get your interview.
Call to schedule a one on one appointment. Group workshops schedule through your instructor or available through Career Source Florida/Pasco.
Writing a Cover Letter
Learn to write cover letters with impact. Be confident: highlight your assets and ask for that interview!
Call to schedule a one on one appointment. Group workshops schedule through your instructor or available through Career Source Florida/Pasco.
Interviewing Skills
Unlock the secrets to successful interviewing, from how to dress, to what to say, to that all-important follow up.  We can help you practice with interactive role-playing.
Call to schedule a one on one appointment. Group workshops schedule through your instructor or available through Career Source Florida/Pasco.
---
Maximize your efforts
Let technology work for you.  Although not required, to get the maximum benefit from the group workshops offered through the Career Office, we recommend that before the first session you attend, you have:
A working email address

Access to a computer with internet connection

A flash drive (to load and save electronic files, templates and documents




---
Other free community resources are also available for your job search.
Career Source Florida
Do you need to learn or maybe strengthen your basic computer skills? Check out these FREE career workshops available through Career Source Florida.  They are offered regularly, several times a month, and you may take them as often as you need to feel confident with your computer skills.
First Time Email User

 Basic Computer Skills for Job Seekers

 Touch Typing
For More Information Visit:  Career Source Of Pasco Hernando
Connections Job Development Program 
Connections offers a Job Club, one-on-one career counseling, computer training, networking opportunities, resume writing/critiquing, job application assistance, job referrals, and interview/work clothing.All Connections services are free, regardless of your education, age, experience, income, or type of work sought.Connections Job Development Corp.
New Port Richey, FL 34656
(727) 849-4724
Employers, do you need high-quality, well-trained full- or part-time employees?
 As a service to the business community, the MTEC Career Office provides a referral service that will assist you in locating full-  or  part-time employees from among our qualified students. Companies with open positions are invited to share those employment opportunities with the Career Office, where they are posted and forwarded to our instructional staff.  We also invite inquiries about our OJT program (see below).  Contact the Career Office coordinator at 727-773-1719 or by email slrice@pasco.k12.fl.us
 Our goal is to match the skills of the individual with the appropriate job opportunities and your needs as an employer.  To meet this goal, the Career Search Assistance:
Serves as a liaison between Marchman and the business community

Streamlines the employment pre-screening process for your Human Resources staff

Helps you identify a more educated, skilled, and qualified work force

Facilitates the placement of highly-motivated students in their chosen fields

Provides students with information and training on desirable employability skills
Since 1984, Marchman Technical Education Center (MTEC) has offered the Pasco County community post-secondary adult education programs with a proven track record of producing well-trained, highly-skilled graduates in fields such as:
Air Conditioning, Refrigeration and Heating Technology

Auto Collision Repair and Refinishing

Auto Service Technology

Commercial Art

Commercial Foods

Computer Systems and Information Technology

Cosmetology

Digital Cinema Production

Early Childhood Education

Electricity

Marine Service Technology

Patient Care Technician




---
 MTEC's On-the-Job Training Program
 Description 
Real-world learning experiences ensure that students are ready and prepared for the workforce.  Instructors approve only the highest-qualified students for MTEC's On-the-Job Training program. These are students who have met their program's academic and attendance standards, have demonstrated their skill level and maturity, and possess the employability skills that indicate their readiness for the workplace. Teacher-directed cooperative education (co-op) is an agreement with business and industry that provides a paid or unpaid, on-the-job training (OJT) opportunity for these qualified students to enhance skills needed to be successful in a work environment while still maintaining their full-time student status.  Certificates are awarded after students meet program and state academic achievement standards. The OJT credit will be earned only when school is in session.
Objectives
To help the student gain additional experience directly related to their occupational program.

To provide an opportunity for the student to enhance skills needed to be successful in a work environment.

To enable the student to make a smooth transition from school to work.

To allow the student to apply learned knowledge and skills required for gainful employment.
Overview
THE STUDENT will:
perform duties at the training area and in school diligently and faithfully; be responsible for conduct while in training; follow instruction; avoid unsafe acts; keep records of work experience and make such reports as the school may require and to turn in weekly attendance sheets and signed Placement Agreement.
THE EMPLOYER will:
provide the student with opportunities to learn and progress on the job in order to gain experience in the occupation; help the instructor make an honest appraisal of the student's performance; consider the student as having the same status as other employees.  The training may be terminated for the same reasons as any other employee; provide equal opportunity/equal access, jobs are available to any eligible student regardless of race, sex, national origin, marital status or disability.
THE INSTRUCTOR will:
ensure that the student is eligible for cooperative education training; will visit the student on-the-job each term; will work with the employer and student to provide the best possible training; and assist with the adjustment of any problems.
If your company is interested in more information about this program or in joining with
MTEC as an On-the-Job Training Partner, please contact us:
Contact:         Sharon Rice / Career Office
Phone:          (727) 774-1719
Fax:              (727) 774-1788
Email:           slrice@pasco.k12.fl.us
Completion, Placement, and Licensure Rates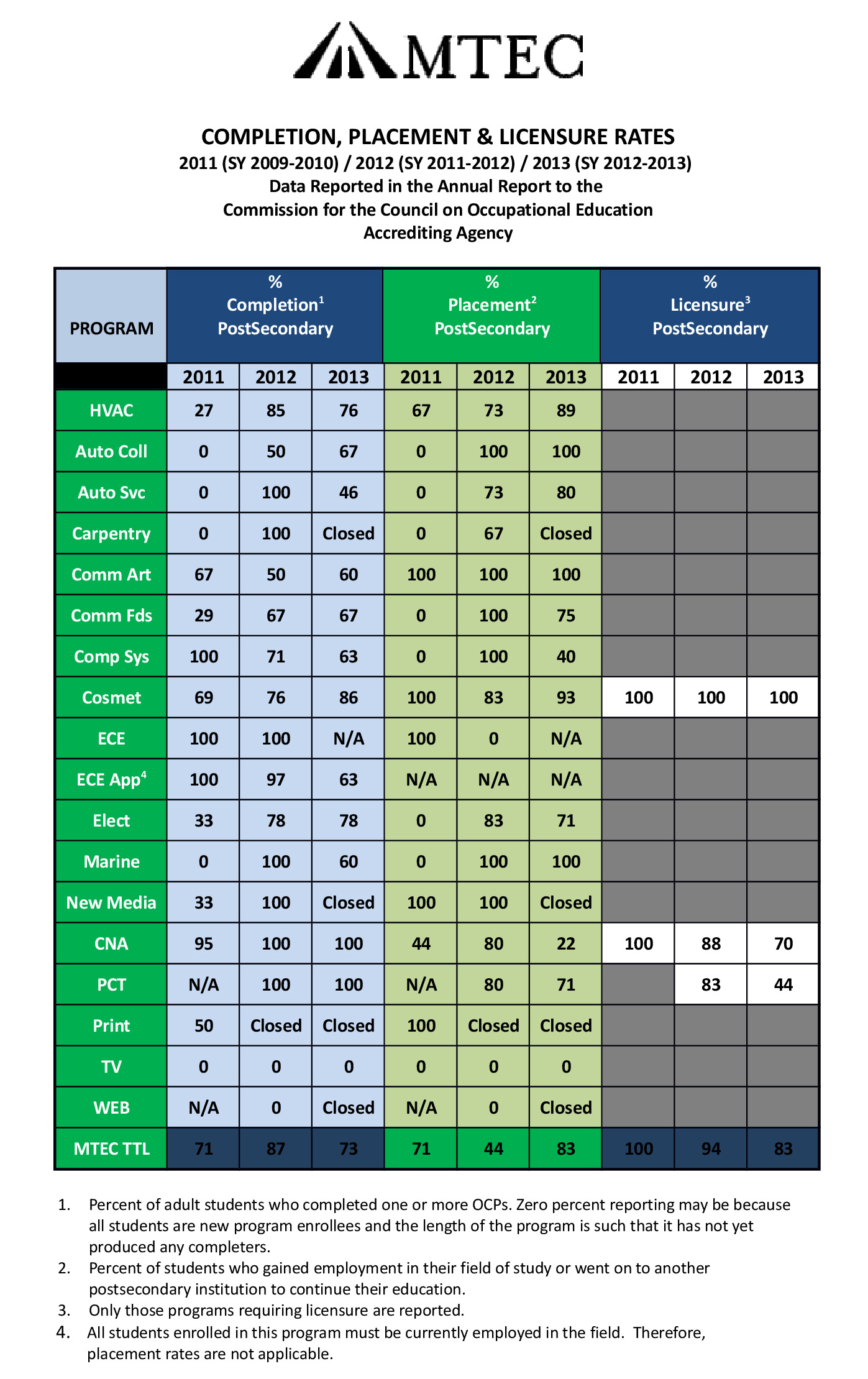 OCCUPATIONS GAINING THE MOST NEW JOBS
Florida Occupational Statistics