Automotive Service Technology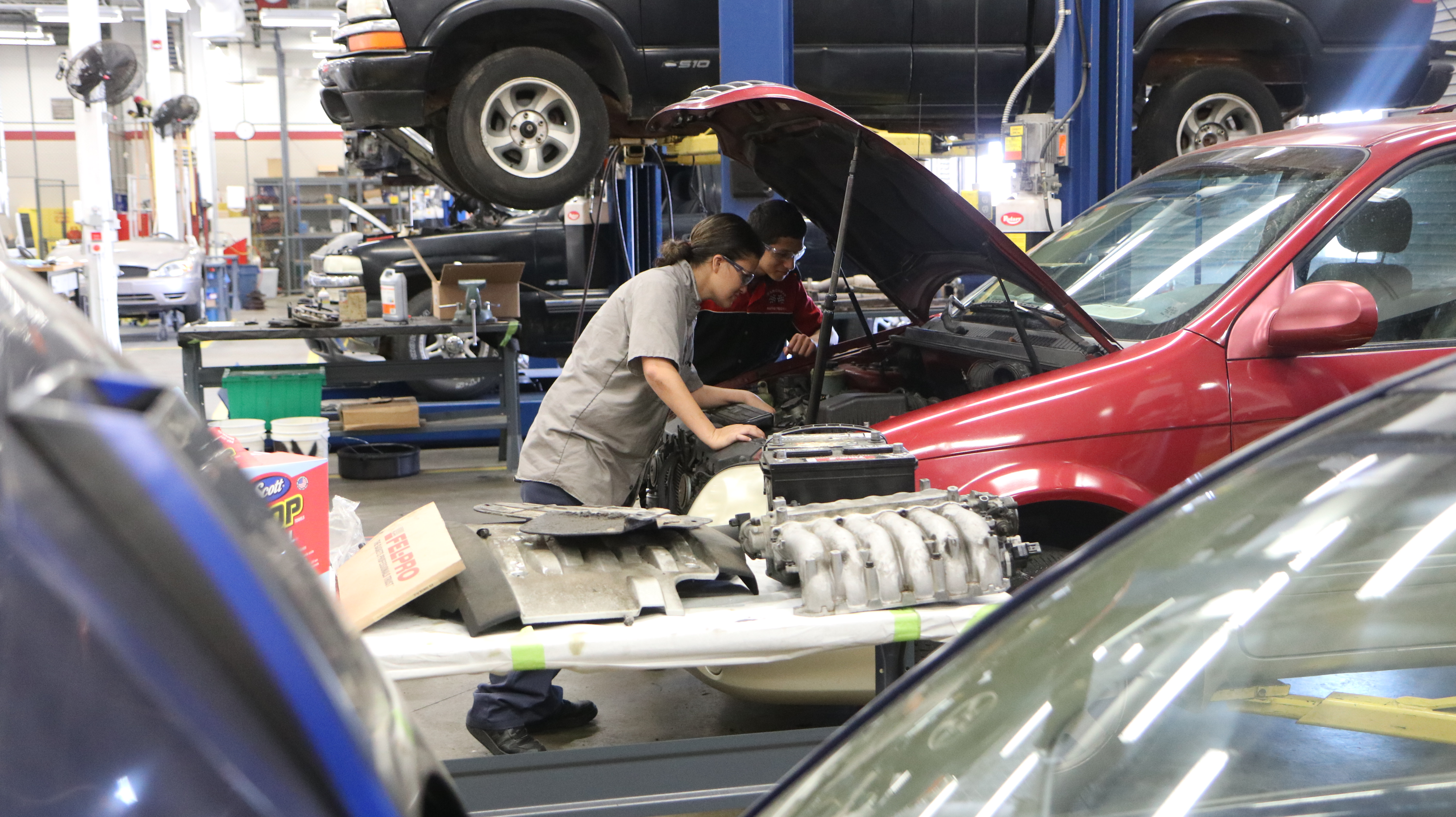 Program Description
The Automotive Service Technology Program helps to prepare students for employment in the automotive industry.The program will include instruction in operation, diagnosis, and repair; as well as parts and service look-up, invoice completion, and basic maintenance principles and procedures for the modern automobile.
Certifications Available
ASE Certification
A $36 registration fee is paid only once during a registration window—no matter how many tests you take. Tests are $37 each, except L1, L2, and L3 which are $74.  MTC fees include the registration fee and one test per year.  Additional tests can be purchased by the student.  More information is available at www.ase.com.
College Credit Award
Program completers may receive articulated credit toward an aligned certificate, A.A.S. or A.S. degree program at participating institutions in the Tampa Bay Career Pathways Consortium. Details may be obtained from the Career Specialist and/or Guidance Counselor.
Career Information
Possible direct entry careers after high school: Auto mechanic, auto tech assistant, automotive parts person.
Possible careers after two years of post-secondary and/or on-the-job training: Engineering technician, automotive service supervisor, automotive technician, business owner.
Possible careers after a four-year university degree: Engineer, technical representative
Basic Skills Exit Requirements
TABE Math Level 10 TABE Language Level 9 TABE Reading Level 9
In order to be a program completer, some students must meet minimum math, language, and reading achievement level exit standards on the TABE, unless otherwise exempt, as established by the Florida Department of Education. Additional information can be found on Page 5 of the MTC Catalog and/or obtained from the Office for Adult Technical Education.
Uniforms
The uniform for this program consists of the program work shirt and jeans. Orders for work shirts will be taken at the start of class. A minimum of two complete uniforms is required to maintain proper hygiene and cleanliness. For safety reasons, it will be necessary to purchase and wear safety glasses and hard leather work shoes with non-skid, oil resistant soles (no tennis shoes). Proper uniform and safety equipment must be worn every day for participation in program activities. Failure to be in proper uniform will hinder student progress.
Tools
Basic hand tools are required for this program. Information regarding tools, brands, and discount prices will be discussed in detail during the first week of training.
Pay High School Automotive Service Technology Fees
Mr. John Herig Jr., Instructor
DSBPC Vocational Certification
25+ Years In-Field Experience
ASE Certifications:  Suspension & Steering, Brakes, Electrical/Electronic Systems, Engine Performance, Auto Maintenance & Light Repair
Building 10, Room 10-001
Mr. James Lupinek, Instructor
AA-Religious Studies, Florida Beacon Bible College
DSBPC Vocational Certification
25+ Years In-Field Experience
ASE Master Certified Technician, ASE G1 Certification
Building 10, Room 10-006
Mr. Roger Riendeau, Instructor
ASE Master Technician A1-A9, ASE Diesel Certified, GM Factory Trained and Certified
30 Years GM Dealership Experience
Building 10, Room 10-006