Automotive Collision Technology Technician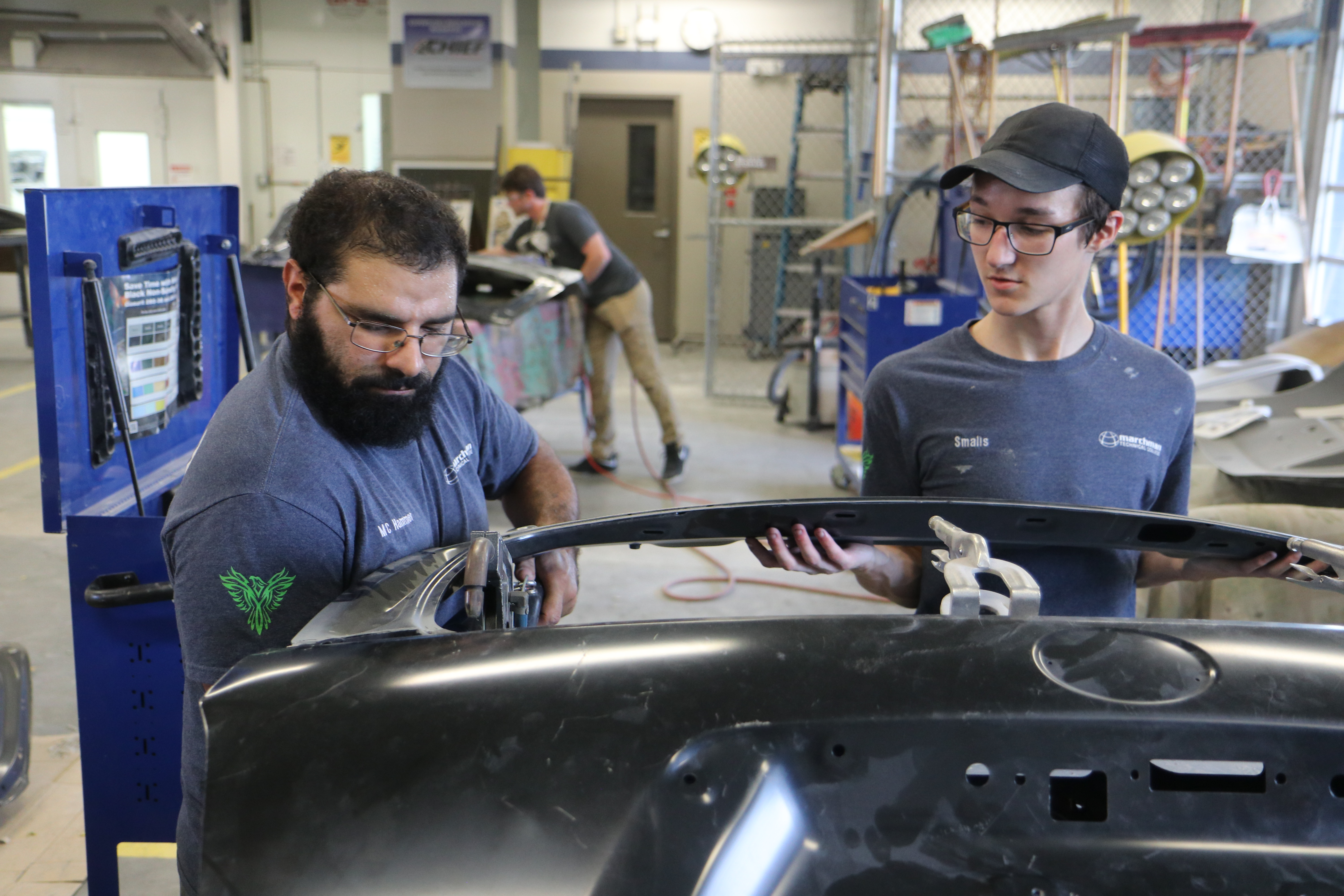 Program Description
The Automotive Collision Technology Technician program prepares students for employment in the auto collision industry. Shop experiences include repair cost estimation, removal and replacement of auto body parts, preparation and painting of vehicles using base coat and clear coat systems, frame and body straightening and repair.  Instruction includes theory, estimating, laboratory, and classroom work as each relates to all phases of the auto collision industry. To learn more about our Automotive Collision Technology Technician program, schedule an appointment with Kim Dunn, our Career Specialist / Admissions Advisor.
Certification
Audatex Estimating Certification, ASE Certification Test
College Credit Award
Program completers may receive articulated credit toward an aligned certificate, A.A.S. or A.S. degree program at participating institutions in the Tampa Bay Career Pathways Consortium.  Details may be obtained from the Career Specialist / Admissions Advisor and/or the School Counselor.
Career Information
Possible careers after two years post-secondary training: Collision repair technician, collision repair technician's assistant, collision repair technician's helper, parts clerk, insurance adjuster   
Basic Skills Exit Requirements
TABE Math Scale Score 596                    TABE Language Scale Score 584               TABE Reading Scale Score 576
In order to be a program completer, some students must meet minimum math, language, and reading achievement level exit standards on the TABE, unless otherwise exempt, as established by the Florida Department of Education.  Additional information can be found on Page 5 of the MTC Catalog and/or obtained from the Office for Adult Technical Education.
Uniforms
The uniform for this program consists of MTC work shirts with standard cut blue jeans or work-style pants.  Orders for uniform work shirts will be taken once class begins. A minimum of five complete uniforms is required to maintain proper hygiene and cleanliness.  For safety reasons, it will be necessary to purchase and wear safety glasses, a personal respirator, solvent resistant gloves, dust mask and hard leather work shoes with non-skid, oil resistant soles.  Most all of these items are provided in the program kit. Proper uniform and safety equipment must be worn every day for participation in program activities.  Failure to be in proper uniform will hinder normal student progress.
Tools
Information regarding tools and supplies required for this program will be discussed in detail during the first week of class.     
Christopher Poliseno, Instructor
DSBPC Vocational Certification
15+ Years In-Field Experience
Building 8, Room 08-004
Kim Dunn, Career Specialist

727-774-1703
kdunn@pasco.k12.fl.us