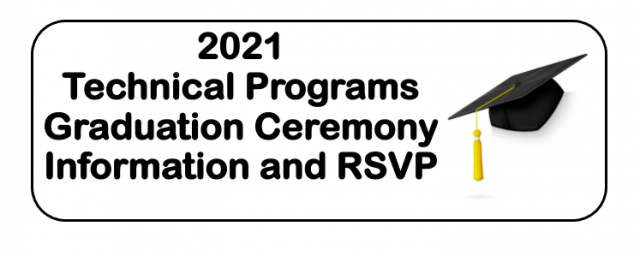 Click here to RSVP for the 2021 Technical Programs Graduation Ceremony.  Information was provided to you in the letter you received and the form reinforces important information you need to know.  Contact Alicia Leary, Assistant Director for questions. aleary@pasco.k12.fl.us
RSVP required for participation by April 30, 2021.
The ceremony will be held on May 26 at 7pm at the Wendell Krinn Technical High School Gymnasium. Participants will receive 4 tickets each for guests. Tickets cannot be reassigned to other students as families/guests will be sitting together in quads. All CDC guidelines will be enforced for this ceremony. (The ceremony for Adult Education GED graduates will take place in August 2021)
Additional Information:
Caps and gowns must be picked up prior to the ceremony starting May 5, 2021 in Building 1 Administration.
Adult students have already paid for their graduation fees in their last semester.
High school students will receive a black loaner gown for the ceremony. Gowns will be professionally laundered and pressed. Caps are new and students may decorate and keep them.